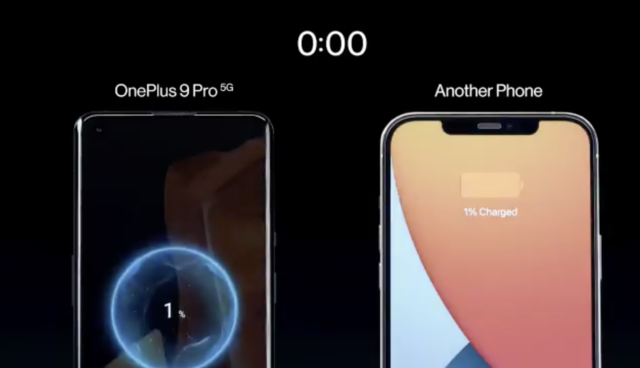 If there is one trend in the smartphone market that we don't expect to die — ever — is brands taking jibes at each other.
Companies often find themselves taking potshots at one another to show how their device is better than the other.
One such attempt has been made by OnePlus, which is gearing up to launch its OnePlus 9 series and has been posting online about its upcoming smartphones endlessly.
In one tweet, OnePlus has posted a 45-second clip in which it shows the OnePlus 9 Pro 5G and "Another" Phone, which is the iPhone.
The video starts with two models being plugged into chargers starting at a 1% charging level.
In an interval of 15 minutes it shows that while OnePlus has charged 35%, iPhone is at 27%. The next check it makes is at a 30 minutes interval, where the OnePlus 9 Pro 5G has charged 71% and the iPhone is at 53%. Then, after about 43 minutes, the OnePlus 9 device reaches 100% charging value, while the iPhone is at 72%.
It is then at the end of the video, it can be seen that the OnePlus 9 Pro 5G was placed on a wireless charger, while the iPhone was being charged via standard Lighting cable.
"Some things are worth waiting for. Charging isn't one of them. Charge faster, No strings attached," is the message given to viewers at the end.
This race doesn't go down to the wire. #OnePlus9Series

— OnePlus 3 (@oneplus) 1616068801000
OnePlus has claimed that the OnePlus 9 series offers the company's fastest-ever wireless charging technology. The devices of the series are going to be equipped with Warp Charge Wireless 50.