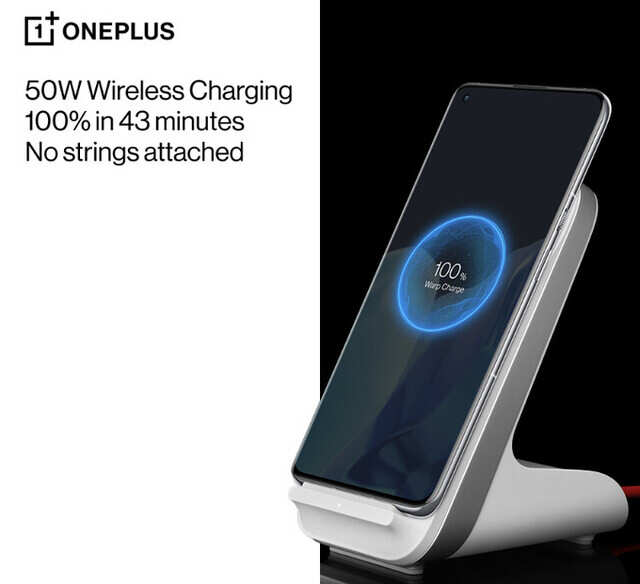 NEW DELHI: Smartphone maker OnePlus has already confirmed that it will launch its next generation OnePlus 9 and OnePlus 9 Pro smartphones on March 23. Now the company has revealed a new detail about the yet-to-launch OnePlus 9 Pro smartphone.
OnePlus has confirmed that the most-expensive OnePlus 9 Pro will come with the company's first 50W wireless charging technology. The company introduced wireless charging in OnePlus 8 Pro with WrapCharge 30.
OnePlus 8 Pro is backed by a 4150mAh battery and it takes 30 minutes to wireless charge the device from 0 to 100%.
OnePlus has confirmed that the OnePlus 9 Pro will come with 50W wireless charging support and it will take 43 minutes to charge the smartphone from 1 to 100%.


Read More:
The company said that it used a dual-cell configuration that fills up both batteries at 25W each through the charging coil.
OnePlus has also optimised the entire chain of components, such as coils and charging ICs, and used leading technologies like our charging pump technology.
In a OnePlus forum post the company also explained how this charging technology will work. "Charging speed can be improved by either increasing amperage or voltage. With Warp Charge 50 Wireless, we increased the voltage to around 20V 2.5A. The high wattage is transferred into the OnePlus 9 Pro through the coils, after which 20V 2.5A power goes through our proprietary isolated charge pump, which turns 20V 2.5A power into 10V 5A power. This power feeds into our new twin-battery system, two battery cells in series together. Each battery gets around 5V 5A, which translates to 25W each, 50W in total," said OnePlus.
New Warp Charge 50 Wireless design
The company has also designed the new wireless charger. The Wrap Charger 50 wireless uses high voltage power and its new design promises to reduce the heat.
Twin battery design with customized new battery cell, which has lower internal resistance, meaning it will produce less heat during charging.
Increase in the thickness of the coils inside the phone by 10% compared to the 8 Pro to help the heat dissipation.
The OnePlus 9 Pro has a larger vapor chamber, thicker copper foil and graphite that helps keep the phone cooler while gaming as well during fast charging.
The charger also comes equipped with two coils placed at the top and bottom. The new charger features a detachable cable design, which enables users to use the red cable of the Wrap Charge 65 given in the box.
Warp Charge 65T for both OnePlus 9 and 9 Pro
The company has also confirmed that both OnePlus 9 Pro and OnePlus 9 will come with 65W fast charging support. Warp Charge 65T for both OnePlus 9 and 9 Pro.